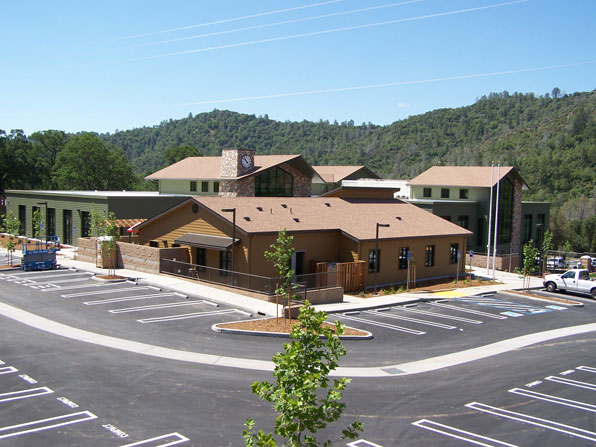 2011 – Mariposa Co. Health & Human Service Campus
"It is a pleasure to give my highest recommendation to Landarc Associates, Inc., whose focused goal was to provide a complete landscape design package that exceeded the owner's expectations.  Their knowledge of the region, LEED expertise, relationships with the local jurisdiction and collaborative approach to design services were essential in making our project beautiful and successful.  I would heartily recommend Landarc Associates, Inc.  to any owner assembling a high performing design team."
Neal Cordeiro
DesCor Mariposa, LLC
Manager and V.P. of DesCor Builders,
 Rancho Cordova, CA.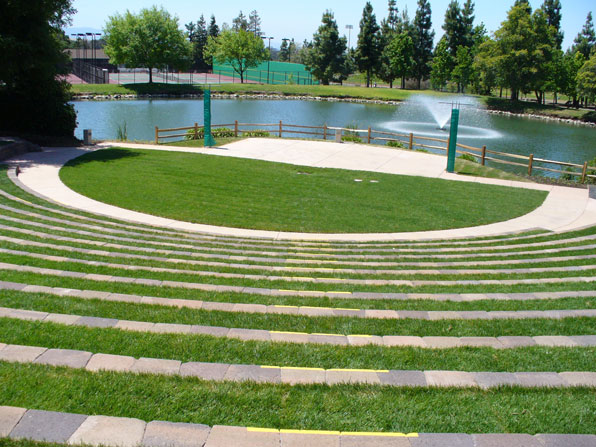 2007 – Evergreen Community College Lake Project
"This note is to attest to the performance of Landarc Associates who provided landscape consulting services to a major $2.25 million lake renovation project at the Evergreen Valley College campus located in San Jose, CA.  This contract included full planning, design and construction administration services for the project that was successfully completed in 2009.  In addition to the Lake Renovation project Landarc Associates also provided landscape consulting  services for an Exterior Site Improvements, a new Parking Lot and the Mapping of Campus Irrigation projects at Evergreen Valley College.
All the aforementioned projects were planned, coordinated and managed by Scott Fornaciari, who provided an excellent level of service for these projects and was very responsive to the needs and requirements of the college.  I would recommend Landarc Associates for any project involving any landscape planning and design scope of services and would recommend the firm without reservations."
Robert Dias
Executive Director, Facilities/Construction Management/Operations
Evergreen Community College, San Jose, CA.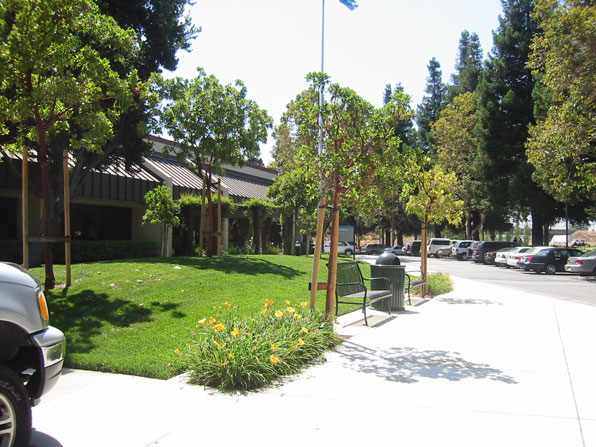 2010 – Kaiser Permanente Gilroy Medical Office Building ADA Walkway Project
"I wanted to pass along the positive comments by Dean Datus, the Kaiser NFS Facilities Project Manager, made in response to the completion of the Gilroy ADA Walkway Project. Dean expressed not only personal pleasure with the outcome but noted both the User and the City of Gilroy have contacted him to thank Kaiser for the thoughtful solution to a long-term accessibility issue.
I know from the design process this is due to a significant degree because of your desire to provide more than just a building code solution. Your concept sketches presented to Kaiser not only improved the pedestrian safety and accessibility of the building entrance from the street but the seating area and plantings you proposed created a visually appealing and restful exterior experience for all Kaiser Healthcare Members.
It is evident that as the trees and plantscape matures, this project will be a signature addition to the Gilroy Medical Office Building. I look forward to our working together again in the near future."
Robert Evans
Design Principal HDR Architecture, Inc.,  
Sunnyvale, CA.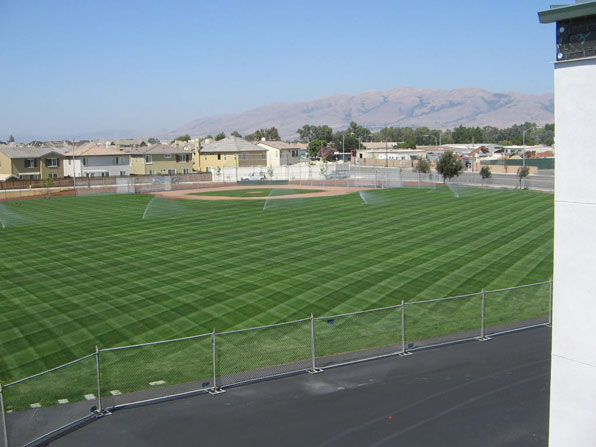 2005 – Orchard Elementary School Play Field/Playground Renovations
"At Orchard School, Landarc Associates transformed sloped, weed-covered empty space into extensive play courts, accessible play structures, soccer field and Little League ball field, a quarter-mile track, and seating/gathering spaces, all cleverly fitted into a limited site area. The improvements not only enable school PE and intramural programs, but are heavily used as parklands by the community after school hours. Little League teams and a non-profit soccer camp use the new fields on a regular basis, and the grounds now double as a venue for community gatherings and fitness walks.
In addition, Landarc reconfigured the existing on-site irrigation well to greatly minimize its above-ground presence, screening the remaining small above-ground equipment into a landscaped planter and thus saving approximately $250,000 in anticipated relocation costs. Our Orchard client is delighted with the final product, and continues to recommend Landarc to neighboring districts."
Susie Lechner
AIA, LEED® AP 
Associate Principal
HMC Architects
San Jose, CA.
Multi-Family Housing Projects
"I have used Scott for landscape services on my last (3) Davis residential subdivisions. He has been invaluable as the primary source of contact with City staff and getting approvals of landscape design in a timely fashion. His innovative designs have also included practical solutions for landscape contractors."
Tim Ruff

Norcal Land 
Davis, CA.
2009 – Porterville Animal Shelter
"Scott and his staff were true "Team" players and hung in there as we tried to balance the Owner's budget and desires, which lead to multiple phases on the project. I have found Scott and his staff to be innovative in their designs and they always met the project schedule.
Because my experience with Scott and the Landarc Associates staff I will not hesitate to utilize them on future projects and I would recommend them without reservation."
Jamie Hickman
Architect/Partner
Taylor Teter Partnership, LLP
Fresno, CA.
2011 – Residential Home
"Scott came with the knowledge and expertise to get the job done. He was most helpful in selecting the right shade tree for a specific area of our front yard and other plants that would not be harmful to our pets but which the deer won't feast upon either. Recently, we had questions on reseeding a few small areas our puppies did damage too and Scott responded quickly with the right answers. Now that spring is here, we look forward to enjoying our new yard watching the growth it will take on with the sunny days ahead.
Scott has continued to stay in touch, whether through telephone or email, making sure our timers are consistent with the winter weather. He is also involved with our community, recently giving his time to landscaping needs at Acorn Cooperative School, a non profit organization for young children.
We highly recommend Scott Fornaciari. He holds the right skills and experience to get your job done.
Lee Ann Allen

Certified Shorthand Reporter, Retired

Mariposa, CA